Here's how it works.
Every Pestie shipment is customized to your exact location and comes with everything you need. It's the new way to do pest control.
You'll get custom­ized products for your specific bug problem and every­thing you need to apply, delivered right at the perfect time.
Just follow the easy instructions and spray the outside of your home to create a bug barrier, then spot treat inside to flush them out.
Maintain your bug barrier when you get a refill, and you'll never have to worry about bugs again.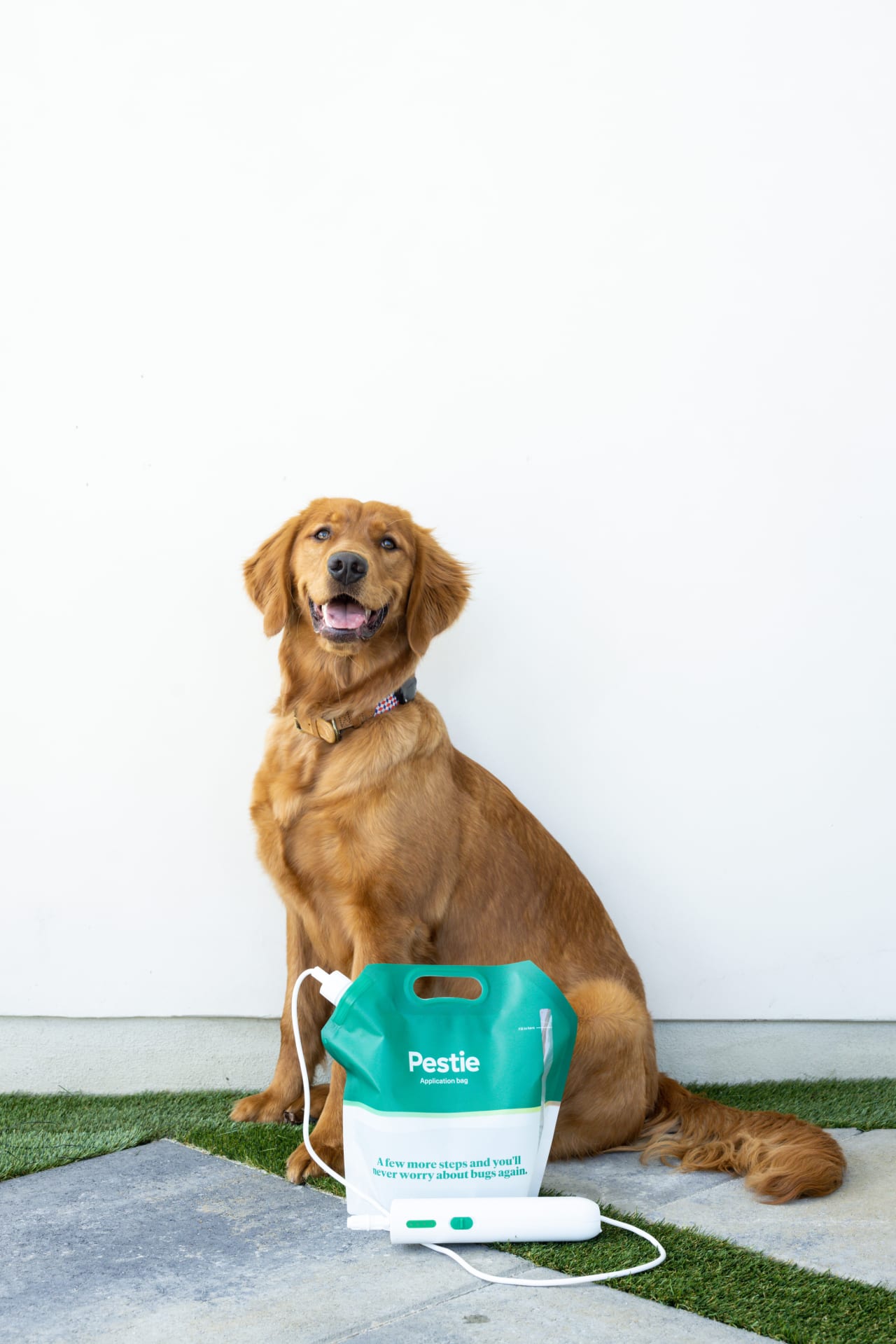 No sketchy chemicals
Designed for people, pets, and the planet.
You shouldn't have to declare nuclear war on your home to get rid of pests. Every pesticide that we send can be used around people and pets—they're even used in hospitals, nursing homes, and pet kennels.
Each shipment includes instructions on how to help protect bees and the environment. With Pestie, you're in control—you always know exactly what you sprayed and where you sprayed it.
The secret sauce
Fast-acting. Long-lasting. Thanks, science.
We partner directly with the world's top pesticide experts and manufacturers. This lets Pestie use the latest tested-and-proven pesticide technology—the same stuff the best pros use.
Thanks to cutting-edge technologies like microcapsule suspension, co-milled dual-active ingredients, and varied capsule uniformity, the pesticides you'll receive work faster, last longer, and are more protected from exposure to sunlight and rain. It's some serious pest control science.
Control nearly all household pests.
Spiders
Ants
Cockroaches
Fleas
Ticks
Beetles
Earwigs
Mites
100+ Others
The better way to get rid of bugs.
We'll be honest, traditional pest control companies really bug us.
Too many pest control companies focus more on profits than actually solving your problem—think invasive contracts, unreliable technicians, and salespeople that often get 50%+ of the price you pay! It's no wonder that on average, hiring a pest control company costs $300-500+ per year.
Pestie sends you the exact same products that many of the best pros use, customized to your location and packaged to make it dead-simple to apply yourself—with pest control experts on call to help you every step of the way.
Compare Pestie versus other pest control options.

Traditional

Traditional

Custom plans based on climate and insects
Convenient, direct-to-your-door deliveries
Low-cost with no expensive salespeople
Professional-grade formulas and products
On-call experts
No-hassle bug-free guarantee

Sometimes
We'll be honest, traditional pest control companies really bug us.
Too many pest control companies focus more on profits than actually solving your problem—think invasive contracts, unreliable technicians, and salespeople that often get 50%+ of the price you pay! It's no wonder that on average, hiring a pest control company costs $300-500+ per year.
Pestie sends you the exact same products that many of the best pros use, customized to your location and packaged to make it dead-simple to apply yourself—with pest control experts on call to help you every step of the way.
Customers love us.
Pests hate us.
4.67 Average | 11,000+ reviews
★★★★★

So easy & it works!

Just got our 3rd order this year and this is how it's going- Where we started: Older 1950's home with lots of cracks & hadn't been maintained in years. After the first spray there was a mass bug-pocolypse around the outside of our house! A couple weeks before our next order came we started seeing some bugs again, but then once we sprayed again... poof. Gone. Slightly smaller carnage. We just got our 3rd order and started seeing just a few bugs again, but it's getting smaller and smaller each time. We're winning the war on bugs! This is so affordable and easy to do! We have a 4000sf home and my husband is able to spray in about 10 mins or less!

★★★★★

Genuinely Works as Advertised!!!

Our family is extremely leery of big pest control companies and their yearly four figure price structures, and who knows what they are even using to propel the pests away? With an active backyard and young children, I decided to try Pestie. Within a week of the very first treatment, ants and black widow spiders were virtually GONE! I was dumbfounded and have since told all of my neighbors about this amazing company.

★★★★★

Love ❤️ Pestie

Love Pestie! Super easy to apply and control pest. No odors, kit comes complete with gloves 🧤 and sprayer. It is effective and earth 🌎 friendly.

★★★★★

Ants 🐜 No More

We had tried EVERYTHING & I do mean everything from natural to poison to get rid of the crazy ant problem we had. We applied the application per the directions and voila It's day 5 and there are NO MORE ANTS !!! Thank you Pestie!!!

★★★★★

This entomologist approves!

As an entomologist and licensed pesticide applicator, I love Pestie for my own home! It's an active ingredient that works and delivered in a system anyone can use. Plus, you can't forget to apply— it magically appears when it's time to reapply. Highly recommend to anyone!

★★★★★

No muss, No fuss

Pestie is super easy to use. The convenience of having everything sent to you when its time to treat again is great. What I really like is how easy it apply. The sprayer does all the work. I also appreciate how well it works and that its pet friendly (once dry).

★★★★★

Big improvement

We had spiders, scorpions, and many other bugs in our new house. Pestie took care of basically all of them.

★★★★★

I love Pestie!

Pestie makes spraying your home super easy. Everything you need comes in a package with easy to follow instructions. I was able to spray the outside of my home and the perimeter of my backyard. I would recommend to everyone to try it out!

★★★★★

Killer savings

Save so much money, and know the pest control is done right, by myself. There was way more than enough in my shipment (2700 sq ft house) do do the entire outside, unfinished basement, garage interior, and attic eves. Love it autoships so i know when it shows up to do it. I don't get a traditional company making excuses on why they are early of late every quarter or what the next thing i need because they did not treat for some type of bug. Customer service is great and takes care of me each time I have called to ask a question.

★★★★★

Convenient, Effective, and More Convenient Than Exterminators

Simple to use kit with clear instructions. Results seen on first application. Well worth the money and a huge savings over an exterminators. Great product!

★★★★★

So Easy!

After moving into our new home, cockroaches, spiders and flies moved in with us. After doing a bunch of research the idea of paying a high price for something I felt I could do myself was painful. Enter Pestie. I'm all about putting the power in the customer's hands and that's exactly what Pestie does. They send you the product you need to use, and you do the spraying. It's so, so easy anybody could do it.

★★★★★

Wow!

I was highly satisfied with the quality and ease of Pestie. The instructions were accurate and easy to follow, the pesticide works as expected (so far no bugs and it's invisible!) and I'm very happy about the price. The electronic sprayer was awesome, too because I've seen other sprayers and you have to constantly keep putting pressure back into the system; with this, you just press the button and it goes! Applying the treatment was fun and a neat way to inspect the outside of my house for damages and foundation cracks. I can't wait for my next shipment!

★★★★★

No more ants!

We just finished building our home when out of nowhere there were thousands of ants! I mean thousands. This stuff is amazing, it totally worked. After two days we didn't see any more ants.

★★★★★

Just finished spraying!

I just sprayed my house for the first time with Pestie! Yay! It was super easy. It fits perfectly in our budget, and I find it appealing that I can do it myself.

★★★★★

It works! Very affordable

I have a toddler so I was going to hire a pest company to keep bugs out but came across pestie and thought I'd give them a try. They have exceeded my expectations. Highly recommend them!

★★★★★

Great product and great price

The process was easy, the assembly was a breeze, the application was a snap.

Seeing results right away.

★★★★★

First time user

Delivery was quicker then expected, application really easy. Works well and fast! Happy, very happy!

★★★★★

Glad I went this direction

I watched the pest control company we were using only spray half the house. I called them and complained and they wouldn't come back out. I'm glad I can do it myself and make sure it's done right.

The instructions were pretty good and it was easy enough to get started. I think Pestie is good if you want to apply it yourself and save some money.

★★★★★

Boom goes the dynamite

I sprayed my house around the parameter. I walked around a few hours later to see if it really worked. I found a dead black widow. Boom goes the dynamite!

★★★★★

We love Pestie!

We love Pestie for our home! It is much simpler than normal pest control services. We love how fast and easy it is. And you don't have to think about reordering when you're due for another treatment!
Read all reviews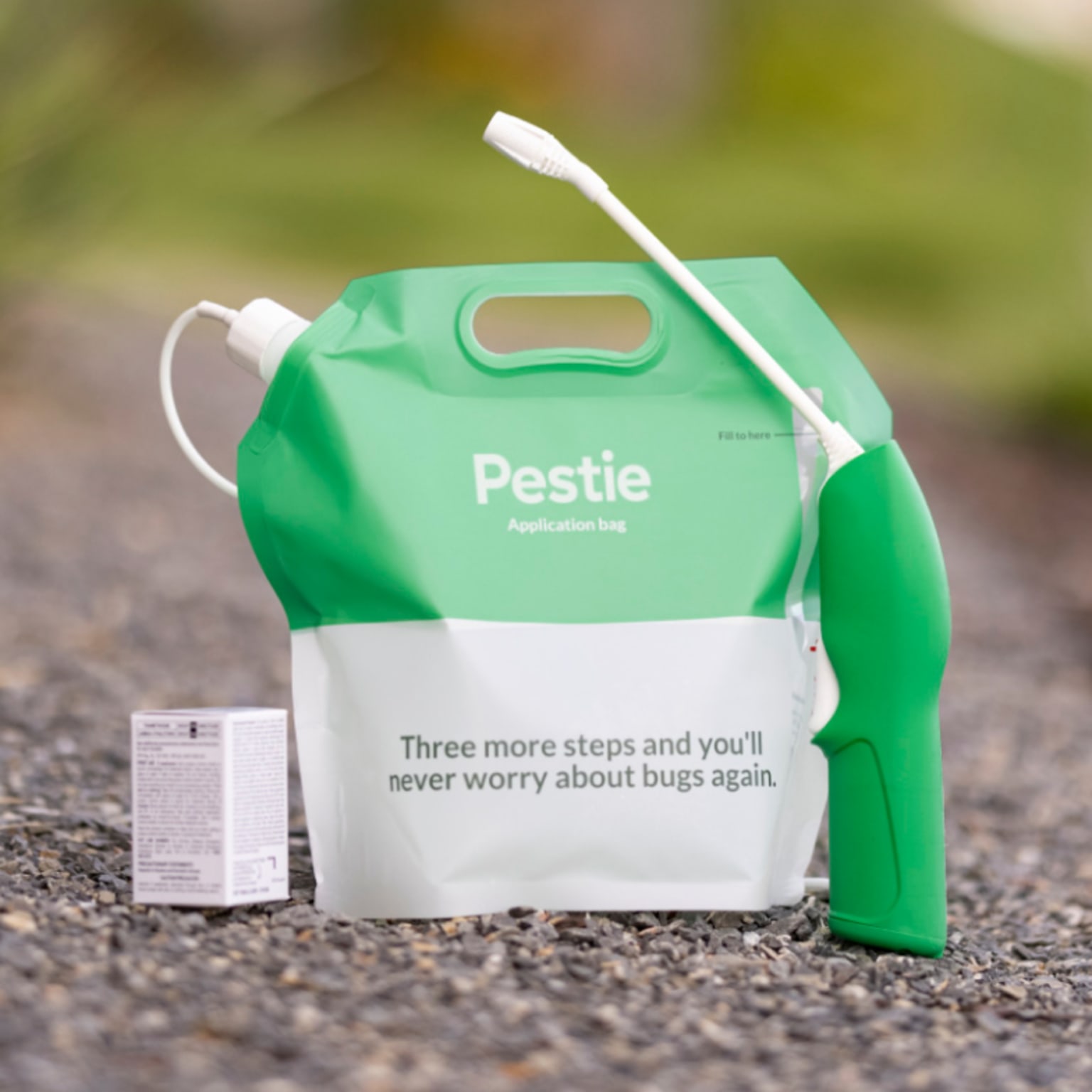 If you're not satisfied, we'll do whatever it takes to make it right—special treatments, personalized treatment plans, or a full refund. No matter what, you're covered.
It's risk-free—unless you're a bug.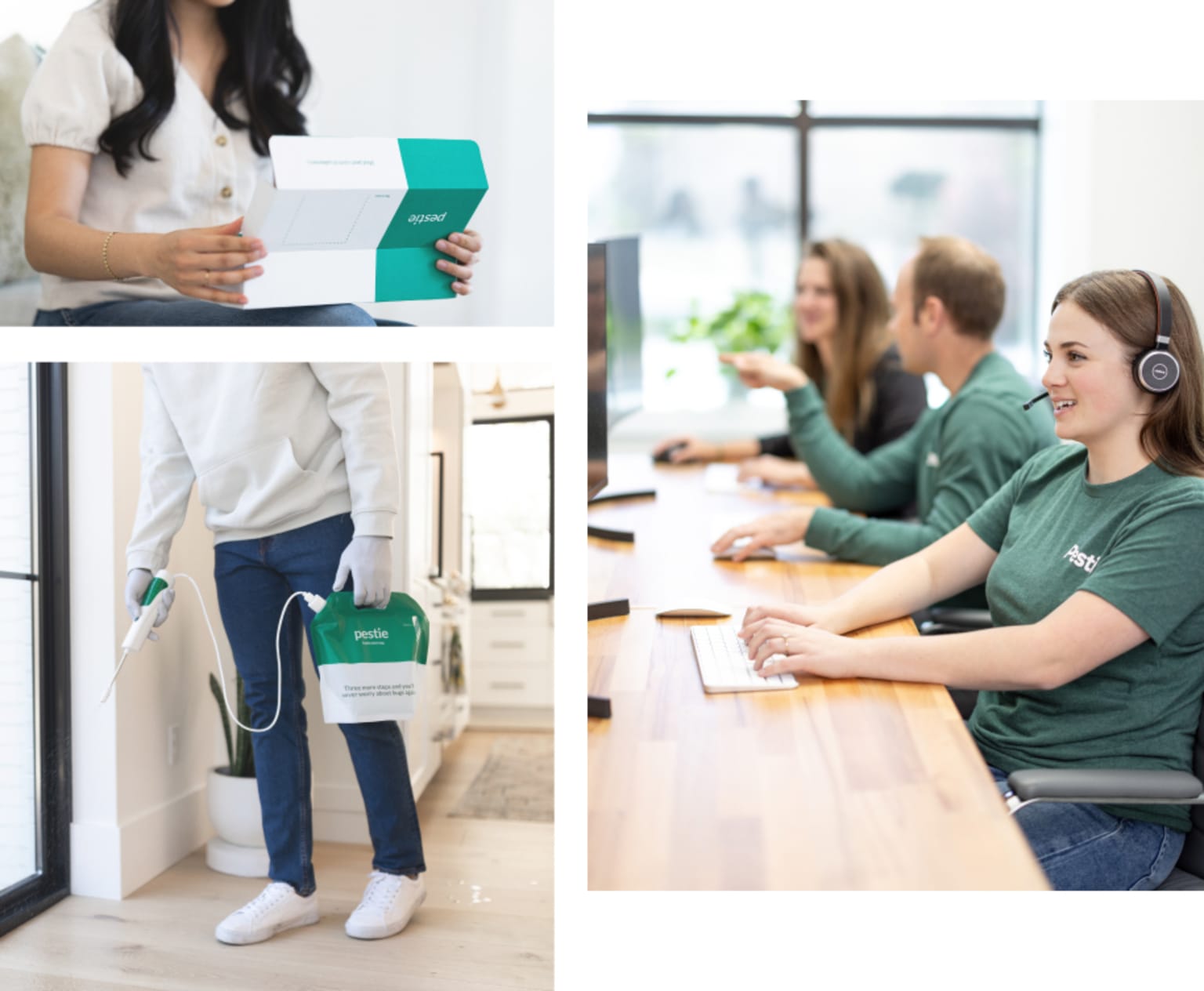 Expert support for all your pest questions.
Every purchase comes with unlimited 1:1 support from our US-based team of licensed pest control experts. Whether you need help applying, identifying a bug, or if you're just into bug talk, we've got you covered.
Chat with

an expert

our pest experts
Frequently asked questions
Getting rid of bugs is important, but it's not worth declaring nuclear warfare on your home. The pesticides we ship are fully registered, sourced from, and used by some of the best pest control companies in the world, and have been used in hospitals, schools, and more.

As with any pesticide application, certain safety measures need to be followed while applying. For example, pets and children should not come in contact with treated areas until the pesticide has fully dried. A complete set of safety measures and instructions are included with each shipment.

With Pestie, you get the same pest control that high-end pro pest control companies use, but since we skip the middlemen, salespeople, and applicators, you get it for a fraction of the price.

Applying Pestie's products are easy and can be done in as little as 10 minutes. Each Pestie shipment comes with detailed instructions and tips on how to apply. To read these instructions or to watch our easy-to-follow video, check out our apply page.

We partner with pest control manufacturers and experts to select and ship the highest quality, proven pesticides that are optimized for your specific location and the bugs in your area. View the specific details of the pesticides you'll get in your area and other details by visiting our buy page and clicking "View included pesticides/tools".

Your shipment will usually rotate through different pesticides for higher efficacy and to prevent bugs from developing resistance to a specific pesticide.

We also have specialty treatments that we send to customers in certain situations that are optimized for certain pests or issues. Usually these are not necessary except with more severe issues.

Every pesticide/treatment that we send out has been thoroughly tested for safety and efficacy, and is usually the same or better than what your local professional pest control companies are using. Every shipment that we send out comes with the original EPA-approved label, full safety information, and application instructions.

For most of our customers, we recommend an outdoor barrier sprayed around the home. In most cases, this is extremely effective at getting rid of pests inside your home.

In rare cases where it's necessary to spray indoors as well, the pesticide can be applied using a light spray while taking additional precautions such as moving any human or pet food and waiting for the product to dry before any contact. Only a light spray is needed.

Before spraying indoors, you should read the included label for full safety information and instructions. If you have any questions about whether or not you should spray indoors, our team is available to help. Contact us at hello@pestie.com.

Normal Pestie shipments typically cover homes up to 4,500 sq. ft. We also offer Pestie XL which covers larger homes up to 7,500 sq. ft.

We're so confident that you're going to love Pestie that if you're not completely satisfied with the results or the products we sell, we will do whatever it takes to make it right—send specialty treatments, personalized treatment plans, or a full refund. Just contact our support team and we'll get you taken care of.

We recommend reapplying every 2-3 months (depending on your location) in order to keep the bug barrier around your home active. With your optimized Pestie subscription, when it's the ideal time to reapply, you'll automatically get a new shipment at your doorstep. You'll never forget when to reapply, and your bug barrier will stay strong year-round. It's that easy.

Although we will be sad to see you go, we make cancelling your subscription easy. Just contact our support team and we'll get you taken care of without hassle.

Thousands of our customers have switched from using store-bought products to using Pestie. Pestie is better than store-bought pest control in the following ways:

Pro-grade products. The active ingredients in the pesticide you will receive is a high quality, long-lasting, pro-grade solution. Pestie only uses state-of-the-art professional-grade insecticides that are proven to be effective against hundreds of species of insects, including most common household pests. It's the same stuff the pros use.
Automatically optimized plans with Pest IQ. Each Pestie plan is optimized using our Pest IQ technology to increase effectiveness for your home. This means that you'll get products that work well with the specific bugs in your area, delivered at the perfect times to apply according to your climate. No one-size-fits-all solutions here!
Built-in resistance prevention. We rotate through the pesticides you receive to avoid insects building resistance to any individual pesticide, making it far more effective over time.
We've got your back. Our pest control experts are always ready to walk you through application, send specialty treatments, or even identify bugs for you. You can give us a call or chat with us anytime!
Bug-free guarantee. Every Pestie subscription comes with our bug-free guarantee. That means if you ever have a bug issue, we'll make sure it gets taken care of at no cost to you, including sending specialized treatments or giving personalized support over the phone.
Ultra-easy application. Each part of the application process has been made as simple as possible, and comes with everything you need to apply. With our powerful reusable electronic sprayer, ultra-simple step-by-step guide and videos, and premeasured product, it's never been easier to do your own pest control.

It's simple: salespeople and technicians. Traditional pest control companies have to pay for sales commissions. Some of the largest pest control companies pay their salesforce upwards of 50% of the contract value! After paying their salespeople, they pay for technician's salaries, trucks, and equipment. When you buy Pestie products, you bypass all of the middlemen and pocket the savings.

With any pesticide, certain safety procedures need to be followed during application. Included with each shipment is the registered label and a full set of instructions on how to safely apply the pesticide. As outlined in the instructions, when applying you should take standard pesticide application precautions such as wearing gloves (included), wearing long sleeved shirts and pants, and wearing closed-toed shoes. Be sure to read and follow the included label for complete safety information.

The pesticide in your shipment is safe to spray on household trees, bushes, and grass. However, it should not be sprayed on any vegetables, fruits, or edibles. In order to protect bees and pollinators, it also should not be applied to flowers or flowering plants. See the included product label/instructions for full details.